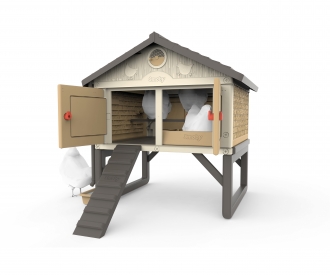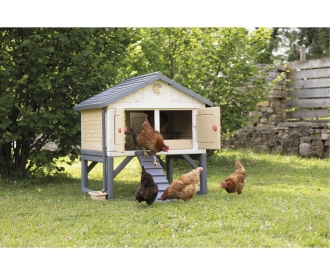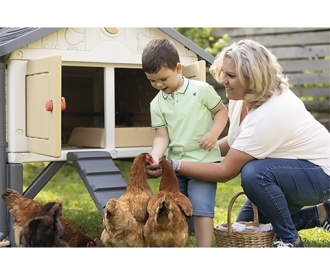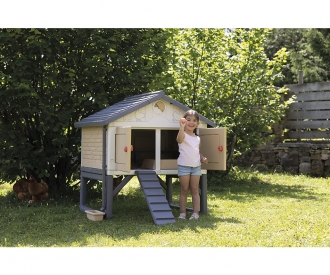 https://fr-video.simba-dickie.com/embed/de/poulailler-smoby/?autoplay=1&quality=720p
With this chicken coop, breeding chickens will no longer hold any secrets for your children!
It is equipped with 4 large doors, an access ramp for the hens, an adjustable ventilation, a large nesting box, a wide perch, a water descent as well as a container to collect rainwater.
Its structure is stable and resistant thanks to its doors, its flooring, and its blowmoulded feet. In addition, it is anti-UV treated for a good resistance and a better colours durability over time.
You can easily clean it thanks to its plastic structure and its large doors, enabling to avoid diseases and red lice.
You can also move it very simply thanks to its adapted feet, or you can fix it to the ground.
5 hens can be accommodated inside.
1 dummy egg and 1 fun booklet for children are included.
Made in France.
Product dimensions : 159 x121 x 128 cm
Weight : 25 kg.
Delivered in 2 packages.
The hen house can be used with an automatic door system suitable for hinged doors. The product was developed in cooperation with the automatic door system company, Anticrocpoule, in order to produce a model specially adapted to this henhouse. You can find the system under this link: https://www.anticrocpoule.fr/en/produit/chicken-groom-for-smoby-chicken-coop/chicken-groom-automatic-close-smoby/