---
Sort by:
Top sellers
New
Price ascending
Price descending
Filter
---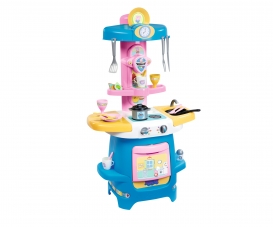 Toy kitchens
PEPPA PIG COOKY KITCHEN
310714
€46.99
With the Peppa Pig Cooky kitchen your child will be immersed in the universe of his favourite cartoon! With its countertop height of 40.5cm, this kitchen will be perfect for apprentice cooks aged 18 months and over! Your little-one will be able to prepare the meal thanks to the hotplate and the oven, prepare a coffee to his friends with the espresso machine, and do the dishes through the sink with its tap. The several shelves and storage spaces will enable to convert his play area as he wants! Then, the lateral shelves are removable to extend the game area. Extra storage spaces will appear too! 22 accessories are included to brighten functions up: 2 plates, 2 forks, 2 knives, 2 spoons, 2 glasses, 2 cups,1 frying pan, 1 stew pot with its lid, 3 BBQ utensils, 3 coffee capsules and 1 salt shaker. For children aged 18 months and over - Made in France.
More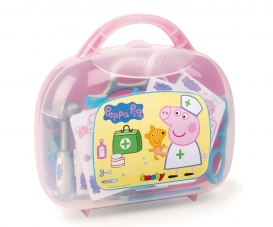 Doctor play sets
PEPPA PIG VANITY DOCTOR
340101
€19.99
With your Peppa Pig medical case you could become a real doctor! You have all elements at your disposal to provide first aid: 1 stethoscope, 1 pair of glasses, 2 cards, 2 flasks, 2 dummy boxes, 1 syringe, 1 thermometer, 1 pair of scissors, 1 bracelet, 1 batch of 12 plasters, 1 otoscope, and 1 reflex hammer. You will be able to transport your vanity everywhere with you thanks to the handle, and provide assistance at any moment! For children aged 3 years and over - Made in France.
More