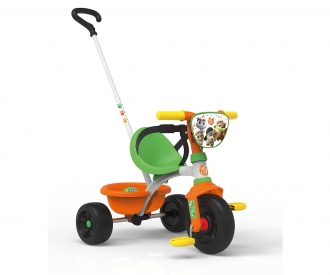 A coloured tricycle that will delight your child from his 15 months to his 3 years and over!
The 44 Cats tricycle will accompany you during your all walks from your baby's 15 months.
Thanks to the adjustable parent handle on 3 levels (max 95cms), the free wheel system and the locking of child's steering, you will easily steer the trike without your child interfering in the direction.
Your little-one will comfortably sit in his ergonomic and enveloping seat that you will be able to adjust on 2 positions.
With the safety belt and the metal frame you will have nothing to worry about your child's security!
Thereafter you can remove the parent handle, the free wheel system and the child's steering locking to let your child leaves for adventure with his favourite characters! He will easily move alone thanks to the antiskid pedals.
Walks will be enjoyable and fun! He will be able to transport everything he finds on his way thanks to the rear tipper skip!
For children aged 15 months and over. Made in Spain.